Zones can be created by entering the Zone Drawing-Mode, using the Left Toolbar Create Zones button or the ⌨ Z keyboard shortcut.

Zones can be drawn in several different ways through the Rectangle or Line Sub-Modes.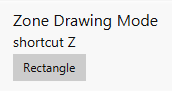 Click the Sub-Mode button on the drawing-mode guide-box or use the ⌨ Tilde [`] key to toggle between Sub-Modes as required for each room.
---
Rectangle Sub-Mode
🖱 Left-Click to begin creating a zone.
The next 🖱 Left-Click will finish zone creation.
Alternatively, enter Manual Dimensions by typing the width and depth of the zone in millimeters and hit enter to create.

🖱 Right-click will reset the first point's location and a 2nd right-click (or the Escape key) will exit the drawing mode.
---
Line Sub-Mode
🖱 Left-Click each point of the Zone.
Complete the Zone by 🖱 Double Left-Click on the last created point of the zone, or 🖱 click back at the origin.
You may hold ⌨ Shift to draw lines in straight ↔ or ↕ directions.
🖱Right-Click to remove points, and if all points have been removed, a subsequent 🖱 Right-Click will exit Zone Drawing-Mode.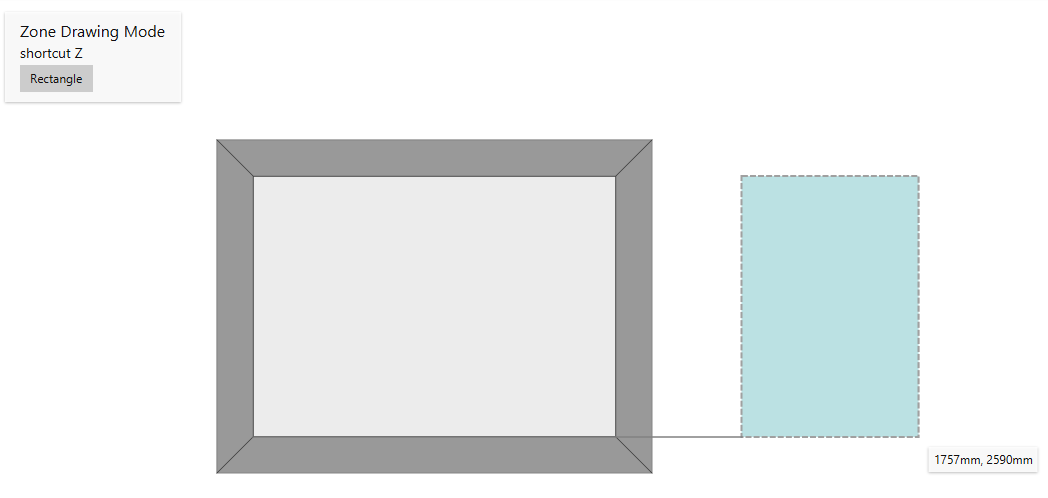 ---
Snap Settings
When drawing Zones, the 🖱 will Snap to existing aligned points of previously created Zones, as well as to points on adjacent levels close to the click location depending on your Snap settings. The Snap-Lines are visually shown while in zone drawing mode projecting out from the aligned point. If you would like to override an aligned Snap Point, zoom in further which will reduce the snap distance.
When a Zone is created, all lines drawn will become Walls, and a single Floor & Ceiling encompassing the shape will be created. If there are any adjacent Walls near the new Zone, Walls may be Split and connected automatically to these. Likewise, any Zones on adjacent levels will cause the Floors & Ceilings to Split automatically and connect to these adjacent Floors and Ceilings.